Urgent Care Delivered
Convenient access to medical care when and where you need it.
TeleMeMD LLC is personal, urgent medical care by subscription as well as pay per visit. It provides access to urgent medical care via Telehealth service and house calls. I provide the same types of services you would receive at an urgent care facility but in the comfort of you own home. Labs, x-rays and non-member service available.
Adult Care
We can provide medical care for any adult in your household. We act as an extension of your doctor's office. All documentation is sent directly to your doctor. Same day service.

Prescriptions
TeleMeMD can easily write prescriptions and send them directly to your preferred pharmacy. Our doctor will determine which medication is necessary based upon the diagnosis. We do not prescribe controlled medications.
House Calls
At TeleMeMD, we offer the convenience of house calls. Once a staple in the delivery of medical care, we are bringing house calls back. House calls are tried and proven to be convenient, decrease risk of exposure to diseases and are more comfortable for our patients.
X-ray and Lab
TeleMeMD is set up with both laboratory and x-ray services. These can be paid for out of pocket at a significant savings or run through your health insurance. These can be done at a lab/radiology center of your choosing or we have in-home mobile service available for x-rays, ultrasound and blood draws available.
Urgent Care
Dr. Bills is trained in Emergency Medicine and has 25+ years years of experience in treating Urgent Care medical conditions. We provide almost any service you would find at a traditional Urgent Care facility, but do so in a more cost effective manner and in the convenience of you own home or office.
Pediatric Care
We treat children ages 3 months-18 years. On site point of care testing such as Strep, Mono, RSV, Influenza and Covid-19 are available. We do not provide childhood immunizations.
Direct, safe and personal access to medical care in the comfort of your home
Convenient access to medical care when and where you need it. No more waiting rooms. Minimize your exposure to other sick patients. Same-day appointments when your doctor can't get you in. House calls available. TeleMeMD provides unprecedented, direct access to your doctor.
TeleMeMD has developed a free, downloadable app (https://hipaa.jotform.com/app/220438747478164) for your smart phone which gives you an easy way to self-schedule your telehealth visits, review consent forms and leave reviews. Additionally, we have a HIPAA compliant texting number (419-664-4733) which adds another secure and accessible way of communicating with us and sending pictures to help with the diagnostic process.
Unlike traditional insurance, where costs are highly variable and confusing, TeleMeMD costs are straightforward and transparent. Subscription and
direct billing avoids the hassles of insurance and co-pays making medical expenses more affordable. This not only gives you the ability to make informed choices about spending your healthcare dollars, but allows you to know the cost upfront rather than having to wait for insurance to decide what you're out of pocket cost will be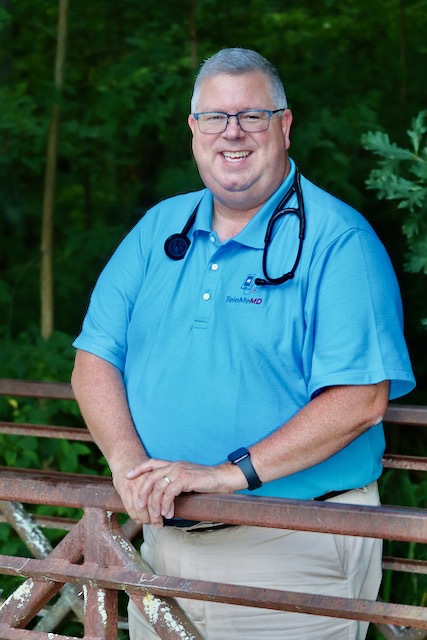 Steven W. Bills, MD
Steven Bills, MD was born, raised and educated in Toledo. He graduated from St. John's Jesuit High School in 1985 and then attended the University of Toledo graduating Cum Laude with a BA in Biology 1989. He was accepted and completed medical school at Medical College of Ohio graduating in 1993. In keeping with his "educated in Toledo" theme, Dr. Bills completed his Emergency Medicine Residency training at the joint St. Vincent/Mercy Medical Center and Toledo Hospital program. Since 1996, Dr. Bills has worked in the Northwest Ohio area in nearby Emergency Departments as well as being a flight physician on local area medical transport helicopters. For the past 5 years, he has been working in local area Urgent Cares/Occupational facilities.
The delivery of medicine has changed a great deal over Dr. Bills' 28 year career. With increased pressures of business metrics along with documentation requirements, it seems that less and less time is actually spent with patients. TeleMeMD was born in part, out of frustration with the current medical delivery system as well as a strong desire to develop a more convenient, patient centered approach to quality on demand medical care. Telemedicine is the future of medicine.